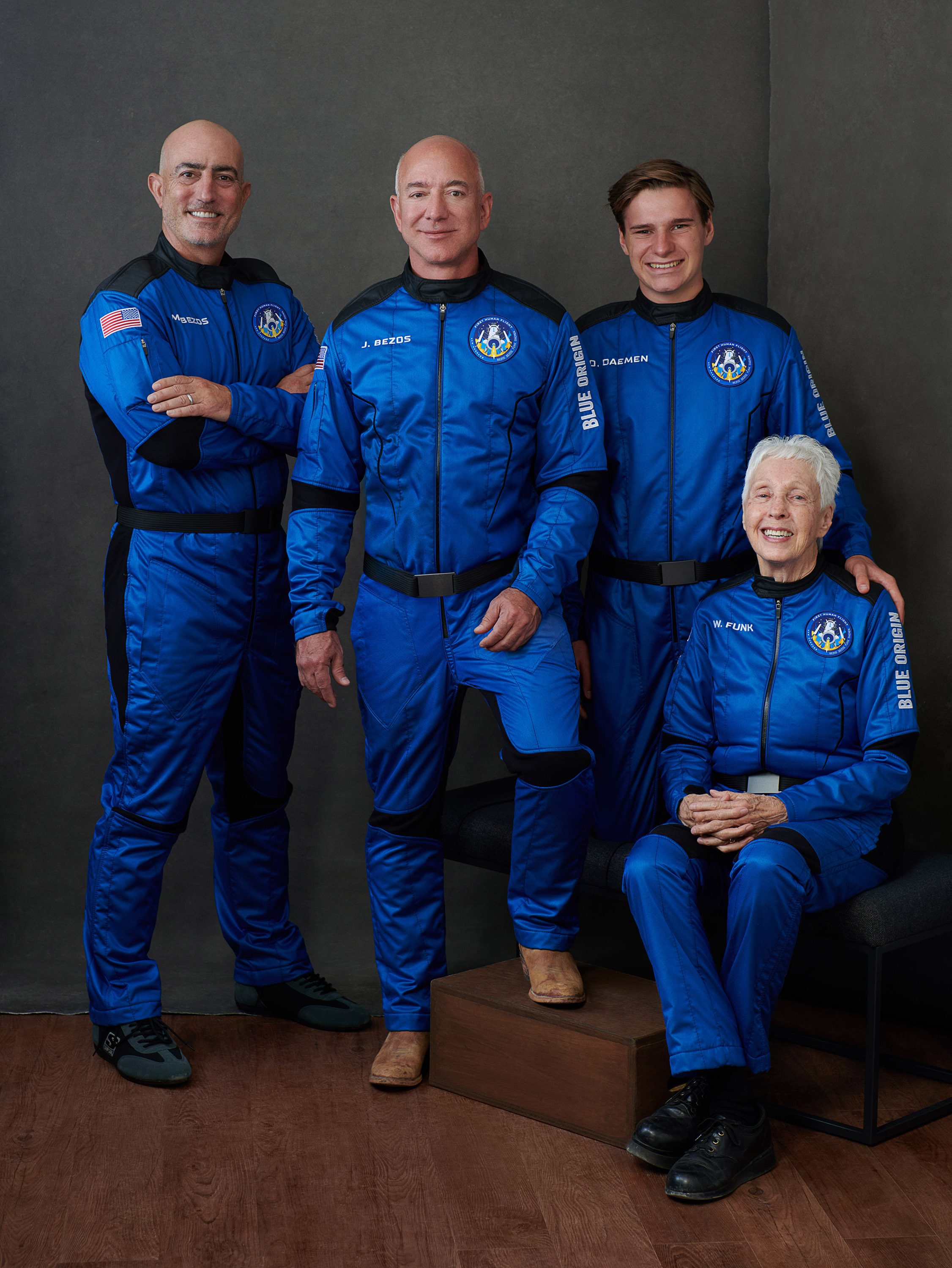 Yesterday, June 20, 2021, Jeff Bezos and his amazing crew consisting of Mark Bezos (his brother), Wally Funk (oldest person to go to space, 82) and Oliver Daemen (youngest person to go into space, 18) made history by launching into space and coming back safely to Earth. They did it. They went to space. The 11 minute spaceflight may have looked easy but there surely was tons of time and precious energy and hard work put into this incredible project. Space travel is a thing that not even the greatest adjectives can support. It's literally out of the world!
Jeff Bezos first announced on June 7, 2021 that he and his brother Mark will be on New Shepard's first human flight on July 20th, with the auction winner (who apparently paid $28 million for the 11 minute spaceflight. On July 1, 2021, Blue Origin announced that Wally Funk, a former American Aviator, would be flying on the spaceflight. And only days before the flight, they announced Oliver Daemen—apparently the auction winner, due to the real one having "scheduling conflicts", aged 18—would fly to space becoming the youngest to have ever flown into space.
And so the four went. On board the New Shepard rocket named after Alan Shepard, the first American to go to space. The New Shepard is a reusable rocket , designed to send astronauts and payloads just past the Kármán Line—the internationally recognized boundary of space by NASA.
The top of the rocket consists of the Crew Capsule where there's room for six people and the largest windows to have flown into space for the best view from up there. It's extremely safe and designed for a comfortable ride. The architect of New Shepard Gary Lai said on the live stream yesterday that he'll even be willing to put his kids up there. The booster powers the Crew Capsule which flies up to 105-106 kilometers—well beyond the Kármán Line and the booster separates from the capsule and makes a safe landing down to earth on a pad created for it. That technology is really hard to create, yet it's necessary. You don't throw away a Boeing 747 plane after every flight. You reuse it. The same with rocket engines and boosters now.
And soon thereafter, the Crew Capsule returns back to the ground with it's three parachutes.
It's incredible what the private sector is doing for the "new age of space" and this is just the beginning! There's a lot to come and I'm excited. I can only imagine a time when going for an 11 minute space ride takes over our yearly or semi-yearly vacation to a new place in the world. Maybe in 20 years? 30 years? Definitely not more than 40 years I suppose!
It's something just out of the world and amazing that Blue Origin achieved yesterday. And I believe we should be grateful for companies like Blue Origin and create more like them. And ultimately try and find out some of the answers to the big questions we have about space.